Adaptive mobile-friendly Web Development
Your website is the face of your company. Everything from the looks and feels to its speed tells a customer about your company.
You can see our services shown here as steps. If the previous steps weren't completed, they should be done before requesting a particular service. Though, we can do the job ourselves as a part of the package.
Since we are a full-service marketing agency, we provide a full range of services as a package. This means that we do not sell services separately, except for ASO.
WHY YOU NEED an adaptive website
Since 80% of internet advertising is mobile device users, 1% of website load speed is 1% of company's revenue.
Web development is all about building and maintaining websites; it's the work done behind the scenes to make a website look great, work fast and perform well with a seamless user experience.
Aside from technical expertise in website building, our staff is skilled in SEO, user experience (UX) and conversion rate optimization (CRO).
We offer full range of internet marketing services, unlike many other web developers. Our knowledge of SEO, UX and CRO ensures that your brand-new, mobile-friendly website achieves maximum exposure and conversions.
Faster loading times
With an adaptive mobile website, your users won't have to wait for your website to load. As a result, the website will only load the information and features necessary for their device and it is crucial to have a fast loading time. Therefore, an adaptive website generally has a shorter loading time than a responsive website.
The best user experience
Since an adaptive website only shows users what they need to view, each aspect is uniquely adapted to the individual requirements for each type of mobile device. The user experience is at the heart of all design decisions, from image size and resolution to layout and structure.
I want the same
benefits
of adaptive
web development
how it works
As full-stack development service providers, we do a detailed analysis of every element to offer the best solution based on your business area and the geographic and/or demographic characteristics of the audience you work with.
Researching competitor's display of elements based on geographic location to identify a typical approach
Establishing a draft for the website based on competitor research, drawing layouts, and approving the final design
Designing the overall layout of the page by coding basic blocks
Assessing the assembled system for bottlenecks and eliminating them through stress testing
Maintaining and supporting the system to find any occuring errors or bugs and eliminating them
website development stages
1
Researching a client's project with an industry and geolocation of target audience of interest
5-7 days
2
Making and presenting an offer with a solution based on the performed research
7-10 days
3
Developing a design based on the research with the preferences of target audiences taken into account
7-21 days
4
Coding main structure of a website and implementing the admin panel
5-10 days
5
Testing all the systems and scenarios
1-2 days
6
Delivering and presenting a completed solution. Maintaining and supporting the system for the first month.
1-2 days
Admin panel
for a custom website
Imagine having a website and not being able to edit its content by yourself. It means that every time you want to add a new page or edit the content of an existing page you are going to need the help of a developer, which costs money. What we offer here is a viable solution for the problem - an admin panel for a custom website.
To put it simply, it is a custom builder for your website. It builds new pages for your website in a very easy and understandable way. Here is how it works: we create pre-ready blocks with different combinations of the content where all you have to do is put the content you want to see on that page, be it a combination of a text and a picture, a text and a video, two columns of a text or anything else. Next and final step is to just click "ready" and that's it - you have a new page for your website.
No need to hire a coder
Save your time, energy and money
Only 10 minutes to get it done
Our toolkit
Our specialists work with the most advanced web development technologies on the market to make your site look and work according to modern quality standards.
Also, using the most popular development tools makes it easy to find specialists when they are needed.
industries
we work with
Our adaptive websites and webpages are capable of displaying all the features of your project or business in its entirety, whether it's a land sale in Indonesia, a service for LGBTQ+ dating or a marketing agency in the UAE, without sacrificing loading speed or user experience.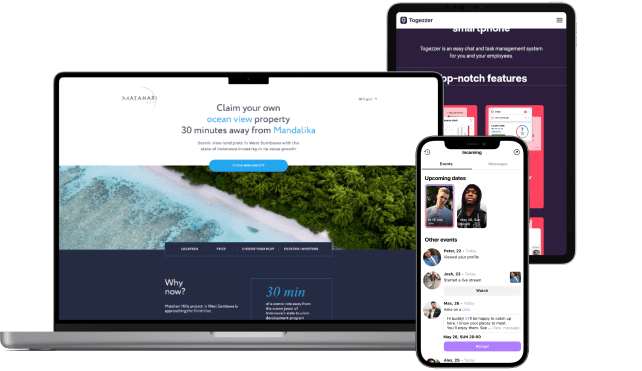 FREE!
Product audit
Customer & market audit
Competitive audit